Posted by Olivia on May 26th 2021
If you feel like you are working all day long but still have items left on your to-do-list at the end of the day, then this post is for you.
It is easy to get caught up in the sea of information that floods our minds each day. From personal errands to projects at work and even family events, it is simple for things to fall through the cracks.
The problem with an average to-do-list is that it weighs every single task equally. This means that we often choose to do the tasks we enjoy doing the most, first, while leaving the most difficult tasks for times when we are the least productive.
If this sounds like you, then you need to organize your life using a notebook! We are about to unlock the secrets that will help you increase your focus and productivity so that you can get things done more efficiently.
Why Organize Your Life Using a Notebook?
Using a notebook might seem simple, but it can make a big difference in your life and how you make use of your time. Getting started is simple - all you need is a notebook and a pen!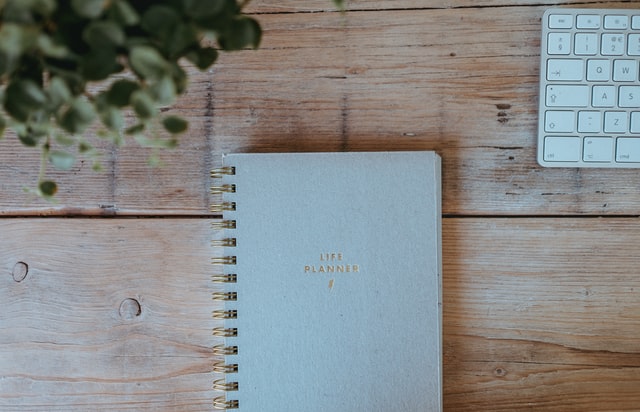 Here are our tips on how to organize your life using a notebook:
Get a Notebook
If you want to organize your life using a notebook, the first thing you will need to do is get a notebook and pen.
When choosing your notebook, go for one that is small enough so that it is easy to carry around, yet large enough to map out all of your time. You can choose a simple, lined notebook, or an undated planner.
Next, choose a few pens or markers in contrasting colors to help you differentiate between tasks.
Map It Out
What is it that you need to get organized? Getting started might feel a little overwhelming at first. For this reason, we recommend listing out all of the items you want to organize.
Your list could look something like this:
Work Projects
Birthdays and important events
Budgets
Grocery lists
Chores
Of course, everyone's list will look different, so this can be tailored to your personal needs and preferences.
Structure Your Notebook
Now that you have a list of things that need to be organized, it's time to structure your notebook. We recommend sectioning off your notebook into three parts for maximum organization.
Here are the three sections you will need to create:
Index: The index should be at the very front of the notebook. It serves as a table of contents so that you can easily navigate through the contents of your notebook. In the index, you can include page numbers or even use a symbol key to help identify different sections.
Weekly or Monthly Log: Keeping a weekly or monthly log at the beginning of each week or month will help you manage the items you want to accomplish. This log can include weekly or monthly appointments or meetings, and even some short-term goals.
Daily Log: The daily log is simply your daily to-do list. To make it easier to manage, we recommend creating a tracking system such as putting a square next to every item on your task list. Once the task is completed, fill in the square. If it is still in progress, put a slash through it, and if you need to move it to another day, you can draw an arrow in it.
Aside from including these three sections in your notebook, the options for further personalization are endless. Some of these additional pages might include a daily work routine, a Pomodoro tracker, and a list of short-term and long-term goals.
Fill Your Notebook In
Now that you have structured your notebook, it is time to fill it in. You can use your notebook to track the items below, and any additional ones that you included on the list of things you would like to organize.
Here are a few things to track in your notebook to help organize your life:
Keep track of your work schedule. If you have flexible working hours or if your hours change on a weekly or monthly basis, you can easily keep track of your schedule using a notebook. For those that have a consistent schedule, you can use your journal to time-block. The best way to do this is to color-code each block based on the task and label them with what you will be working on during that block of time.
Schedule events. You can use your monthly log or even a "Future Log" to keep track of big events or important deadlines. These can be work-related events, birthdays, holidays, and appointments.
Manage your projects in one place. Whether your project is big or small, including it in your notebook will help ensure that you are on track to finish it on time. You might even consider dedicating an entire page to a project where you can plan, brainstorm, jot down ideas, or take notes.
Whatever you choose to include in your notebook, be sure to update it daily. This allows you to eliminate the things that are distracting you so that you can focus on priority items and actually get things done.
Ready to begin your productivity journey? Check out our collection of notebooks!
Portage Notebooks is located in Northeast Ohio and has been creating professional notebooks for media, law enforcement, and businesses for over fifty years. Our notebooks are made using the highest quality materials.
If you are interested in learning more about productivity, time management, or notebook organization tips, visit our blog.
If you have any questions, don't hesitate to reach out - email us at info@portagenotebooks.com!