Posted by Olivia on Sep 23rd 2021
There are many reasons we take notes.
From jotting down meeting memos and grocery lists to highlighting important topics during lectures and writing down talking points for a speech, note-taking helps keep our memories sharp.
Whether you are a student, a worker, or both, learning how to take notes to stay organized is an important skill to master.
In this article, we'll teach you how to take notes to stay organized so that you can stay on top of your game.
How to Take Notes to Stay Organized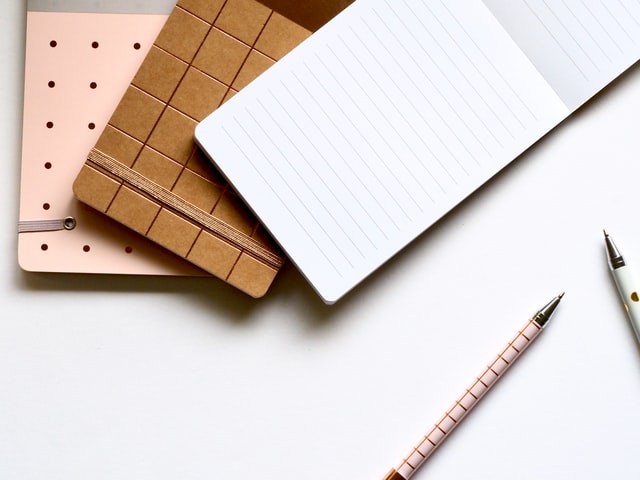 Always take notes in the same notebook
To set the right foundation for staying organized while taking notes, it is important to always take notes in the same location.
While it might be easy to grab the closest piece of paper off your desk and jot down notes, it will be nearly impossible to assemble them later.
This is why we recommend dedicating one notebook to each subject if you are in school, or if you are working, use one notebook for work-related notes, and one notebook for your personal life. Having a work notebook and a separate personal notebook will help you maintain a healthy work-life balance. Plus, it will help you avoid taking your work home with you...literally.
Choose your method
To be as efficient as possible, you will want to choose a note-taking method that will skyrocket your productivity.
Several note-taking techniques can help you organize your notes properly while allowing you to stay focused on the task at hand. You can read more about the top five note-taking methods in this blog article and choose the one that works best for you.
If you're not sure which method to use, try a few of them out to see what fits with your workflow.
Use quality tools
Do not confuse quality tools with overpriced or complicated tools. All you need to enhance your note-taking process is a sturdy notebook, quality pens, and highlighters in colors that appeal to you. You might even consider getting some sticky note tabs to stay extra organized.
We highly encourage you to take notes using a pen and paper as opposed to taking notes on your laptop. Countless studies have confirmed that this method of note-taking results in better comprehension and supports the brain's capacity for the retrieval of information.
If you're still on the fence, read this blog post to learn more about why you should be taking notes by hand.
Always date and title your notes
This may seem like a given, but it is far too often that people simply forget to add a date and title to the top of their page.
To keep your notes organized, you will want to make sure that you always write this information down in the same location every time you take new notes. Make sure to use the same format when starting each new page to make it easy to find what you are looking for when you go back through your notes.
Leave spaces
When taking notes, be sure to leave spaces between each note that you write down.
Not only will leaving these extra spaces to keep your notes visually organized on the page, but they will also allow you to draw arrows and boxes to help tie ideas together. These spaces also provide extra room for you to add in information you may have missed.
Final Thoughts: How to Take Notes to Stay Organized
Note-taking is a skill that you need to learn to succeed both in the professional and academic world.
By taking notes in the same location each time, choosing the best note-taking method, using quality tools, using dates and titles, and leaving spaces between notes, you will be on your way to a more organized life!
Ready to begin your productivity journey? Check out our collection of notebooks!
Portage Notebooks is located in Northeast Ohio and has been creating professional notebooks for media, law enforcement, and businesses for over fifty years. Our notebooks are made using the highest quality materials.
If you are interested in learning more about productivity, time management, or notebook organization tips, visit our blog.
If you have any questions, don't hesitate to reach out - email us at info@portagenotebooks.com!