Posted by Olivia on May 14th 2021
With the amount of fleeting information we encounter regularly, it can be difficult to keep track of daily tasks and even important events.
While many turn to their phones to jot down notes and set reminders, more often than not, we are derailed by email notifications, texts, and even social media. Taking notes on your phone or laptop has its perks, however, there is nothing that can replace pen and paper when it comes to quality organization.
For these reasons, we believe that a plain notebook and solid notebook organization system is the key to achieving success both in your daily life and at work.
If you do not have a notebook system set up, there is a high chance that your notebook will end up in the back of your desk drawer.
That is why we are sharing our top tips for transforming your notebook from a collection of pages into your go-to planning hub. Keep reading for the best notebook organization for achieving success!
The Best Notebook Organization System for Achieving Success
Because a notebook is an offline method of organization, it allows you to truly focus on planning out your tasks without being distracted by constant notifications.
Another bonus when it comes to using a notebook is that it can be used offline. Whether or not you are connected to wifi, you can still use your notebook to plan, cross off completed tasks, or simply write down your thoughts and ideas.
To help you maximize the use of your notebook, we have put together our best tips for organizing your notebook to achieve success.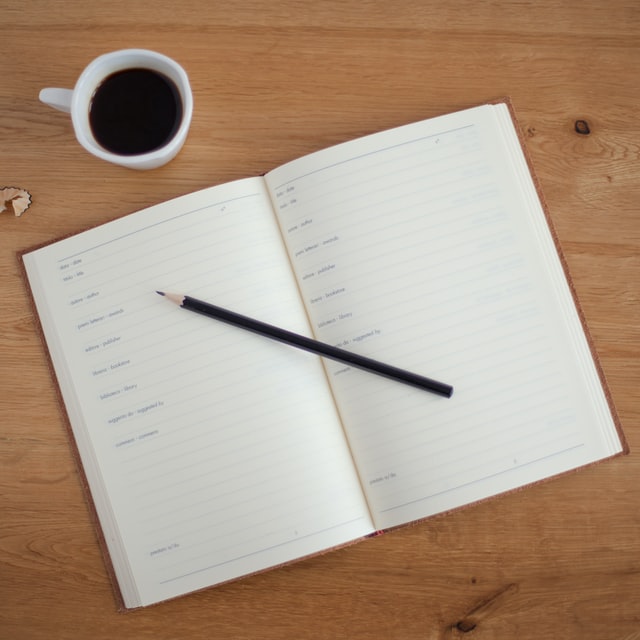 Tips for Achieving Success
Know What You Are Using It For
This is the most important step when it comes to organizing your notebook.
Ask yourself: What are you using it for?
Will it be for work, school, personal life, or perhaps a combination of all three?
Whatever you use your notebook for, make sure to visualize how you will be using your notebook to plan your daily routine. Think about what type of tasks your job involves, what tasks you need to complete and by when, and also if anyone else needs to be able to understand your notebook organization system.
Research Your Options
There are several popular notebook organization systems that already exist. Some of these include Bullet Journaling, the Strikethru Method, and the Eisenhower Matrix.
Each of these methods is unique in its own way, so although one method might work for one person, another method might be better suited for you.
If none of these methods meet your needs, you can always create your own notebook organization system. This can be a combination of the methods mentioned above or a completely personalized method that you create yourself.
The Portage 12 Month Undated Productivity Planner provides a year's worth of undated pages in the form on a monthly calendar. This Planner gives you the freedom to create your own organization system within an existing structure.
Whatever method you choose, make sure that it works for you so that organizing your notebook becomes a task that you enjoy rather than one that you dread.
Number Your Pages
If your notebook is blank or does not have pre-numbered pages, you will want to number them right away.
Depending on your preferences, you can choose to number the front and back of each page, or only write in the odd numbers on each leaf.
Create an Index
No matter which notebook organization system you use, you will want to create an index for your notebook.
This step will make planning easier and much more efficient.
Take one of the first pages of your notebook and create an index that you can refer back to. Here, you should list out the contents of your notebook along with its corresponding page number (which you should have already completed in the step above).
Section Your Notebook
Separate your notebook into sections or chunks that reflect major projects or repeated monthly tasks.
For example, if you have three large projects going on at work, each project should have its own section in your notebook. Or, if you run a blog, Instagram account, or email marketing campaign, each of those should have its own section as well.
Breaking your notebook up into sections dedicated to particular projects and tasks allows you to keep all of the information for each of them in one place so that it is easily accessible.
Using dividers, sticky notes, or ribbons to divide each section is a great way to keep things organized.
Personalize It
The final step to creating a functional notebook organization system is to personalize your notebook.
Color is a great and easy way to take your notebook to the next level. You can incorporate color by designating a certain shade to each task or project, or you can use color to help you time block your daily tasks.
Time blocking is an excellent way to organize your day and it also helps you get a better idea of what tasks you spend most of your time on. Break up each of your tasks into chunks of time and assign them a specific color.
Do not forget to add in breaks as well! Taking breaks can help you feel rewarded for completing a task and also gives you something to look forward to.
Ready to begin your productivity journey? Check out our collection of notebooks!
Portage Notebooks is located in Northeast Ohio and has been creating professional notebooks for media, law enforcement, and businesses for over fifty years. Our notebooks are made using the highest quality materials.
If you are interested in learning more about productivity, time management, or notebook organization tips, visit our blog.
If you have any questions, don't hesitate to reach out - email us at info@portagenotebooks.com!