Posted by Olivia on Jul 23rd 2021
As good as we think our memories may be, they are far from perfect.
With all of the information we are bombarded with daily, it is important to have a place where we can write things down.
Visit our previous post about why you should be taking notes by hand.
A pen and paper, in the right hands, can be powerful tools.
However, simply writing things down is sometimes not enough. Many successful people have developed systems on how they organize their notes.
While there is no right or wrong way to do this, we have a few best practices that you can use to make your note-taking more effective.
Keep reading to learn about our top five ways to keep a notebook organized so that you can transform your notes from a collection of papers into your personal planning hub.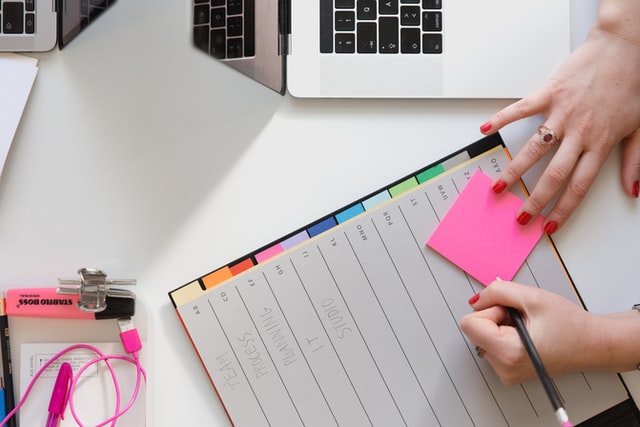 Ways to Keep a Notebook Organized
Separate by purpose
If you are planning to use a notebook for different purposes like work, school, personal, fitness, etc. then it is a good idea to keep a different notebook for each activity.
Separating your notebooks by purpose will help you stay organized and keep track of all things in one place. Additionally, if you plan on using notebooks for work as well as your personal life, keeping them separate will help create and maintain a healthy work-life balance.
Make use of the first few pages
The key to an organized notebook is to not start writing on the first few pages.
Use the first few pages of your notebook to make a table of contents so that you can easily flip to each section quickly.
After you have added your table of contents, you can number the rest of the pages in your notebook.
Use sticky tabs to divide
If your notebook does not already come with dividers, use sticky tabs to divide it up into sections. What sections you choose to divide it up into will depend on what you are using your notebook for.
A work notebook, for example, might be divided as follows:
Daily or weekly schedule: This is where you can write out your schedule and make adjustments to it on a daily or weekly basis.
Tasks: In this section, you may want to consider adding information about who assigned you the task, what information they need, and when the deadline is.
Projects: If the projects that you typically work on have a lot of information, it might be useful to dedicate a section of your notebook to each specific project. This will help you keep all of the details for each project in one place.
Notes: This section can be used for taking notes during meetings, phone calls, videos, etc. It is important to have a place to write down notes or thoughts as it is unlikely you will remember everything.
Create a shorthand writing system
You can take notes much more efficiently by using abbreviations, sketches, diagrams, and other techniques.
Instead of trying to scribble down every single word, develop a shorthand writing system that is easy for you to use and decipher. This is especially important as you want to be able to understand your notes when you look back at them.
It might be helpful to create a "Key" at the top of the page if you plan on using new abbreviations while taking notes. This will help you easily translate your notes later if you need to.
Final Thoughts: Ways to Keep a Notebook Organized
Don't be afraid to play around with different techniques! What works for someone else, might not work for you. It takes a little bit of trial and error, but by implementing these ways to keep a notebook organized and altering them to fit your personal needs, you'll be on your way to a highly organized life.
Ready to begin your productivity journey? Check out our collection of notebooks!
Portage Notebooks is located in Northeast Ohio and has been creating professional notebooks for media, law enforcement, and businesses for over fifty years. Our notebooks are made using the highest quality materials.
If you are interested in learning more about productivity, time management, or notebook organization tips, visit our blog.
If you have any questions, don't hesitate to reach out - email us at info@portagenotebooks.com!